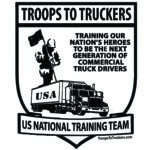 Thank you for registering with Troops to Truckers.
Check you email for a great FAQ overview that you will find helpful.
The next step is that we will be making your information available to our partners and you will also be hearing from us directly.
Thank you for your service and we look forward to advising you as you move towards joining the Commerical Truck Driving Community.
We want to thank Road Warrior Logistics for being a valuable sponsor of the Troops to Truckers veteran CDL advising team. We encourage all those who may be interested in exploring a career as a Freight Agent/Broker to visit Road Warrior Logistics at https://rwship.com/careers for details. Free training and full support to join the ranks of the agents making a great income for their families.